第1・第2ターミナル内での一般のお客さまの撮影について
(Updated March 7 2023)
Thank you for using Haneda Airport.
We ask for your understanding and cooperation regarding the following matters so that all customers can use our facilities comfortably and safely.
General customers use blogs, SNS, the Internet, etc.
If you plan to shoot for public viewing, please fill in the required items below at least 3 business days* before the shooting date, and apply to our company in advance for approval.
(*excluding Sundays and holidays)
Example: Filming videos that contribute to the appeal of Haneda Airport and the development of the aviation industry
(However, depending on the content of the project, we may refuse it.)
*Commemorative photos taken by general customers in the terminal, such as for personal enjoyment, are not eligible.  
*Please refer to the Haneda Airport coverage regulations below for program planning coverage and filming by TV stations and corporations other than the above.
[Haneda Airport coverage regulations]    
https://www.tokyo-airport-bldg.co.jp/files/ir/1421_0330_0900.pdf
*Be sure to check the [Prohibitions/Precautions], [Contact Information], [Regarding Shooting Application], and [Application Flow] below.
If there is a change, we will notify you as an update each time.  
[Prohibitions / Notes]
For
all general customers who will be taking pictures in the terminal,
please be sure to check the following precautions.
・From the viewpoint of security, it is prohibited to take pictures at the security checkpoint (including security equipment and Security Screening Security Screening.
・Please note that photography is prohibited in government-controlled areas (immigration areas, customs/quarantine areas, etc.).
・Unauthorized photography of other customers and airport staff (including airline staff) is prohibited to protect portrait rights and privacy.
・Each operator may have its own rules regarding photography on board aircraft, lounges, stores, etc. Please check with each operator.
・Please do not disturb other customers or stores. (There may be times when security guards on patrol call out to you.) If it is determined that your act will be a nuisance or a danger to those around you, or if you receive a complaint, we will ask you to stop shooting.
・Please note that we will not be held responsible for any troubles that may arise from the shooting and the publication of such images.  
[About shooting application]
After preparing the [proposal],
Shooting application form
Please apply from
Strict observance of the reception deadline: 3 business days before the shooting date* (*excluding Sundays and holidays)
Proposal required items
・Specific shooting content and purpose
・Photographer's name
·contact address
・Date and time
*
·place
*
・Scheduled to be published
*
・Published media name (account name, URL, etc.)
*
*Can be omitted as it is required to fill in the shooting application form.
*Please contact us at least 3 business days* before the shooting date. (*excluding Sundays and holidays)
*Photography just before the deadline has passed is not permitted.
* Depending on the content of the project, we may refuse to take pictures.  
[Application flow]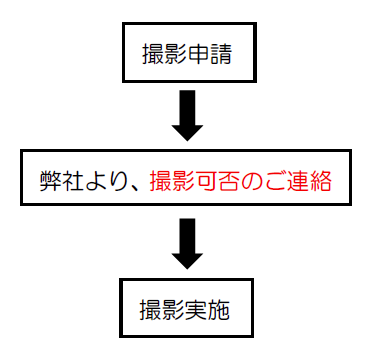 that's all
* Collected information is Privacy Policy managed on the basis of